One of the worst disasters is when a country or a people are subjected to genocide.
Last month was the Mourning Period from the 1994 Rwandan Genocide. TFT is playing a key role in the healing of that nation through the work of the TFT Foundation. From the teachers in schools to the inmates of prisons, they are using TFT to heal from the atrocities of their past, bringing forth love and peace within their communities.
I want to share a small piece from an email I just received from Celestin Mitabu, one of our Rwandan TFT trainers in Kigali, Rwanda.
"This picture was taken during TODAY'S treatment at Kamonyi genocide site where TFT was invited officially by the District of Kamonyi to heal, assisting people traumatized with the Callahan Techniques TFT. The memorial site has got thirty-eight thousand bodies plus 36 bones recovered recently and they were buried today. This was a huge cloud of thousands of people led by many politicians, police, survivors and armies.

The thing is TFT is successful to any trauma. All the cases we faced today they were healed. We healed very strong cases of trauma and people admired. From morning hours till afternoon we worked hard to show to people that we have now a cure for trauma and people have experienced healing."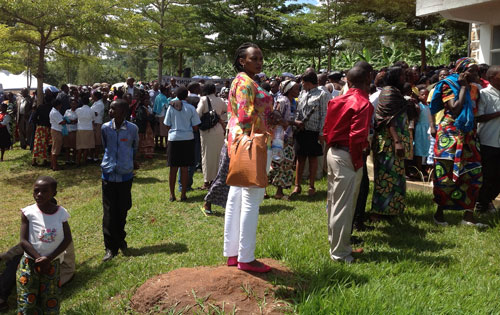 Thank you Celestin and your team for your hard work and dedication to help so many begin to heal.
*Excerpted from "TFT e-zine – News on Tapping", May 13, 2013